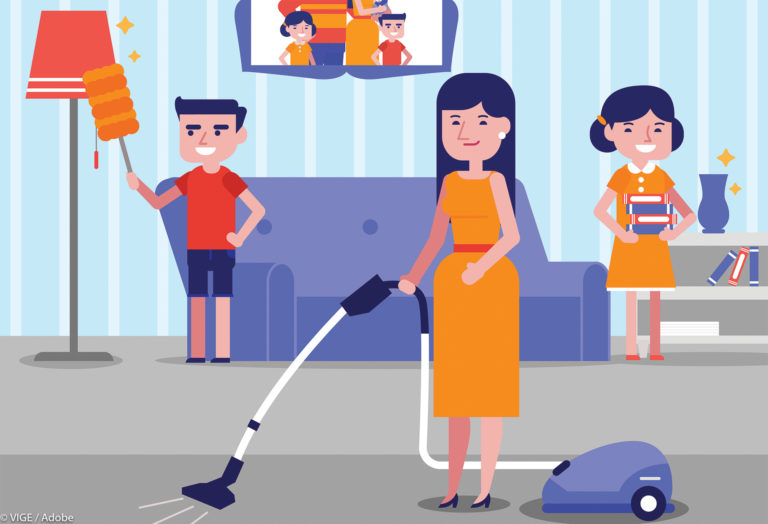 It's sometimes called the "estate or real estate agent's trick".
Savvy agents will tell their clients to have in place a plan which transforms their living space with just 10 minutes to spare.
Moving house might be the last thing on your mind in these testing times, but why not follow the advice of the experts who will show you step-by-step how to tidy up in a trice?
If you have all the time in the world to clean, polish and organise your home, the 10-minute tidy-up will seem like a pointless, and indeed chaotic, exercise. But if like most of us you're busy doing other things or stuck indoors, getting a quick-fix solution sorted could replace serious stress levels with serenity. "Put this in place and you will see a massive difference," says home organiser Ingrid Jansen of Organise Your House, www.organiseyourhouse.co.uk. "And get all the family involved and everyone feels they are regularly contributing to a lovely home."
Professional organiser Kate Galbally of Better Organised, www.betterorganised.uk, says have a trial run and take before and after photographs: "Quite often, children respond well to visual stimuli and actually seeing the difference their efforts make can be so much more effective than all the cajoling in the world." To make it fun, you could also set a stopwatch to see how quickly you can all complete the task.
Set a time when you want the whole family to be involved. "This could be just before everyone sits down to watch television, or before the bedtime story reading," suggests Ingrid. Other practical triggers might be Saturday morning, so everything's nice and shipshape for the weekend, or last thing on Sunday evening ready for the week ahead. And it's good practice to do it before you go away for the weekend or on holiday (we can dream, can't we?); nothing beats coming home to a clean and tidy house.
4
Less nagging – honestly!
Author and family life specialist Liat Hughes Joshi – her latest book is Five Minute Parenting Fixes (Summersdale, £9) argues that "routinising" chores can mean less nagging because everyone in the family knows what's coming, what's required of them and when. "It just becomes ingrained as part of your family life," she says. "Younger children grow up with the idea, and older children can't wriggle out of it."
Each home is different, but specific jobs might include tidying away shoes, bags and coats; clearing the house of plates and cups; emptying waste baskets; hanging up towels; putting dirty laundry into hampers; and sweeping or vacuuming main living areas. One simple principle is to return everything to the place or room to which it belongs. So no pyjama bottoms in the sitting room or credit card statements on the kitchen counter.
Throw surplus items into a big box, trunk or hamper in every significant room. "Remember storage has to be child-friendly if kids are to use it, so keep containers easily accessible and at their height," says life coach and space therapist Helen Sanderson, www.helensanderson.com. "If toys need to be stored in the living room, why not opt for an attractive wooden blanket chest rather than brightly-coloured plastic boxes? That way it's easy to transform the room back into an adult space in the evening."
Finally, Ingrid says that psychologically-speaking, being prepared for the next day at work or school will also help your stress levels. So if you take a few moments of your 10-minute tidy-up to sort out school uniforms, work clothes, backpacks and lunchboxes, you'll avoid morning madness too.