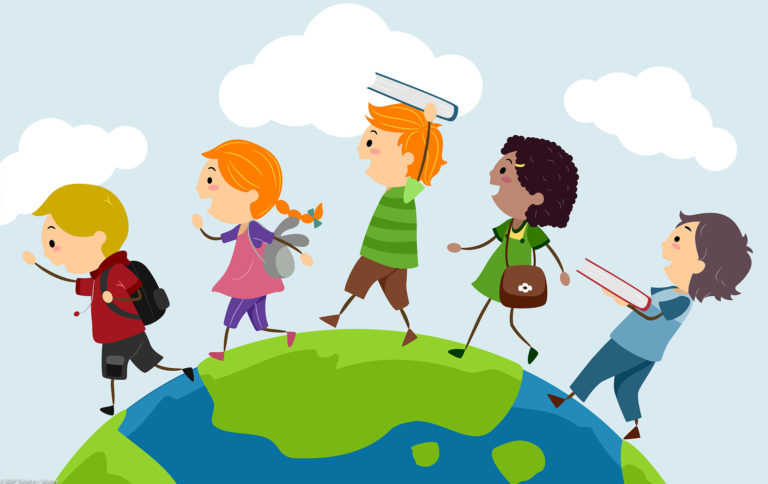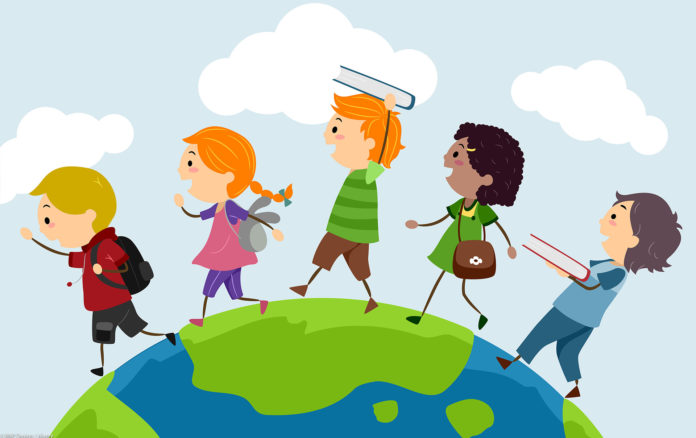 When I was three years old, my mum and I travelled to Italy to visit our family there. We went by coach, ferry and train and it was a pretty exciting adventure for someone my age. I seem to remember it took lots of organising and costly international phone calls.
When I was seven we did it again, but this time we went by aeroplane. My school friends thought it was very glamorous. At that time – in the mid-1970s – foreign holidays were still a relatively new thing for us ordinary folk.
Now, of course, even the tiniest babies jet off overseas with their parents. Modern technology means complicated travel arrangements can be made in moments. We can video-call someone on the other side of the world and it's like we're in the same room.
Moving to another country for work is much more commonplace, too. The internet means we can find jobs and hold interviews no matter where we are. We can learn about a country's geography and culture with just a few clicks of the computer mouse. Thanks to Google Earth and the like, we can see what even the most far-flung places look like.
We live in a time of globalisation, and this has an impact on our children's futures. Even with Brexit looming in 2019, any restrictions this brings are unlikely to put insurmountable obstacles in their way. The world is almost infinitely accessible, for both work and leisure, and as parents we should embrace this. By teaching our kids about the possibilities that exist, we're opening their eyes. We're encouraging understanding, empathy, tolerance and awareness of those who live outside their immediate environment. We're turning them into citizens of the world.
How to raise a global child
1
Encourage a love of languages
Learning a second language has so many advantages. Being bilingual opens up more career opportunities and makes it easier to connect with a whole new culture. Some languages are taught in schools, but don't limit your child to those. Everyone learns best when they enjoy the subject, so if they're fascinated by all things Japanese, let them learn Japanese. Imagine being able to communicate with around 128 million new people around the world!
2
Make the most of family holidays
When you travel overseas on vacation, immerse yourself in your surroundings. Do some research before you go – are there any cultural or historical landmarks you can visit? Even a trip to the beach can teach you something about the local coastline and marine life. Make the effort to explore outside of the tourist areas to get a real flavour of the food, customs, art and music. A road trip is a great way of discovering the many different cultures that can exist in a single country.
3
Travel the world from your home
Have one night a week where you cook and eat food from a different country. Read little ones a bedtime story from or about somewhere overseas. Watch age-appropriate television programmes about different cultures and religions, or a movie such as Shopkins World Vacation – an animated adventure with a chase around the world as part of a diamond heist.
4
Buy a globe or a large wall-map of the world
Kids are fascinated by them and it will help them learn where different countries are in relation to their own. If you're discussing world events, make it a habit to find the relevant place while you're talking. Use it to start conversations about geography, different climates and time zones.
5
Celebrate international holidays
National celebrations are a great way to learn about different countries and cultures. St Patrick's Day (Ireland), Cinco de Mayo (Mexico), Chinese New Year (China), Thanksgiving (USA), Bastille Day (France), Diwali (India) – the list is endless. Find a list of the main ones online and print it out, and plan special activities.
6
Consider hosting foreign students
Language schools often need host families for their students to provide a taste of authentic family life, food and routine. In exchange, you and your children have the opportunity to learn about your guest's language and culture. (The schools will generally pay an allowance to cover board and lodging costs.)
Also read: