Four years ago, when I was 16, I lived alone for almost a year on the Isle of Skye. My home was a tipi that was almost impossible to find without detailed directions.
I grew in Scotland – in the wilds of the Cairngorms, to be exact – along with my mum, Ghillie, and older sister, Yazzie. It was remote and sometimes inaccessible; at times we needed cross-country skis to haul food and supplies to the house.
My mum, a cookery writer, taught us at an early age about possible dangers and how to cope with them, and then let us run wild. We also travelled abroad regularly, visiting remote tribes and cultures, living among them for weeks as Mum studied foods and recipes she could write about.
I spent so much time with people who rely on the land that it became second nature to me. So, when I gained a place at the School of Adventure Studies in Scotland, I decided to live in a tipi, practising what I preached.
I washed my clothes in the river and dried them in the wind or in the heat from the fire
I slept on an ancient canvas camp bed that my grandfather gave me, with two old army blankets and some skins I tanned myself from roadkill animals for warmth. I had an open fire and spent evenings tanning animal and fish skins, and carving wood.
Clothes and books were stored in an old metal trunk that belonged to my mum; I washed the clothes in the river and dried them in the wind or in the heat from the fire. I had a bush shower using water from the river.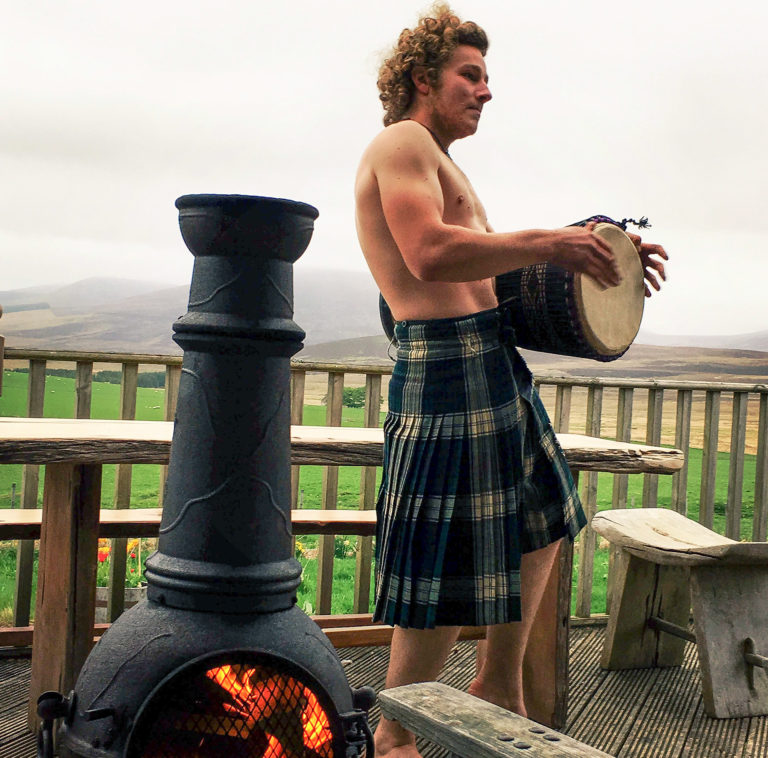 My day usually started at 6am – I'd get the fire on straight away using flints and steel. There was usually a good bed of embers from the previous day, so the fire would soon be blazing while I ate my breakfast – cereal, or bannock bread which I baked myself.
I'd collect kindling for later in the day, then wash at the river. Sometimes I'd jump straight in, especially when it was frosty. When I rushed back to the tipi, it would feel like a sauna.
After organising my backpack with the food and kit I needed for the day, I'd bank the fire – covering it to keep it low, but alive – and then walk the 30 minutes to school, where subjects included mountaineering and whitewater kayaking.
It's fair to say there have been a few hairy moments.
Like the time I was on the hills when bad weather rolled in and I became disoriented, but thanks to Mum's training, I knew to stay calm. My classmates and I had a two-day test in horrible weather on the Trotternish Ridge; there was such a whiteout we could hardly see our feet as we pitched our tents.
People ask if I miss the internet when I am in the tipi but I've never used it much
A few people were exhausted and had to be taken off the mountain by the leaders, but I enjoyed the challenge; I feel comfortable in the mountains, though I'm aware of the dangers and the need to be prepared.
People ask if I missed the internet in the tipi but I'd never used it much before, or watched much television. I used my mobile every few weeks to catch up with friends and Mum, who I'd usually see once a month when I went back to the Cairngorms.
I work with a bushcraft expert, Willow Lohr, teaching wild skills to others and also regularly visit a small tribe of bushmen in Namibia, with whom I share ancestral skills.
When my studies were over, I moved the tent back to Mum's house and used it to tan skins.
What I'm doing isn't for everyone, but it makes me happy.
I'd like to see more people look after the land and not be scared of spending time outside, of getting wet or learning to survive without home comforts. I'd like to learn western riding – horse-riding like a cowboy – because my ambition is to run my own wilderness school, travelling on horseback.
My role model is John Muir, the 19thcentury conservation pioneer.
While I was still at school, I won the 'Young Adventurer of the Year Award' from the Cairngorm National Park in 2014, followed by the first national youth award for 'Excellence in Mountain Culture' in 2015 at the Fort William Mountain Festival.
As the first Ambassador of the Festival, I was sponsored by former racing driver Sir Jackie Stewart to make a film in Yosemite, In the Spirit of John Muir, a 72- mile trek in the High Sierra. The film won an Award of Recognition at the International Best Shorts Competition in California and at the Hollywood International Independent Documentary Awards.
My close group of friends take my lifestyle in their stride
Last year I won the Young Scot Award for the Environment and so far I've found it quite straightforward to keep working and learning outdoors. For the last two summers, I've been working as a wilderness survival instructor with Backwoods Survival under the tutorship of Patrick McClinchey – he's a real inspiration on wilderness living.
I worked as a glacier guide in Iceland last winter, and will probably do the same this year; it means I'm a walking and climbing guide on the glaciers and I also teach others how to make the ice trails safe.
In between my winter and summer jobs, I've been back to Namibia for the third time to make a film with the San Bushmen, which will be released shortly and put on social media.
Over the next few months, I plan get my Mountain Leader and Sea Kayak Leader awards under my belt so I can guide people next year.
Some people will always be ready to criticise you if you do something different
My close group of friends take my lifestyle in their stride, as does my sister Yazzie and her boyfriend. Teammates from my days of captaining the national basketball team, and old school and college friends, are the same.
We do the usual student things like go to bars or for campouts, and my friends have always loved coming to our home in the Cairngorms. When I'm there, there are lots of barbecues, music, and swimming in the rivers and dams.
Some people will always be ready to criticise you for doing something different, even if it will never affect them.
I never let that get to me. Instead, I think back to my time in the tipi, sitting by the flickering fire, carving a spoon in perfect silence and watching the northern lights through the open door.