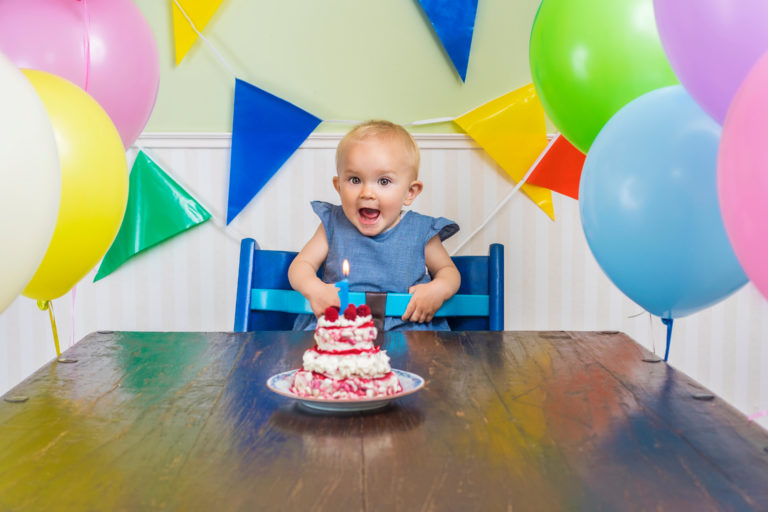 When it comes to birthday parties, it's hard to top the first one.
From watching your newborn as they playfully stuff their face with cake to seeing them play with all their new 1-year-old outdoor toys, it's a joyful time for the entire family.
But as fun and enjoyable as your child's first birthday party is, preparing for it can be stressful.
To help you with that, we've created an ultimate 1st birthday party checklist that will walk you through the entire process.
Let's dive in.
1
1st Birthday Party Checklist – 1-2 Months Before
You can eliminate a lot of the stress associated with planning for your child's birthday party by planning as far ahead as possible. In our family, my wife is a very meticulous planner and likes to start preparing two months before birthday parties.
Here's the kids birthday party checklist that we use to get things rolling:
Decide on a Date, Time, and Location. Getting all this laid out two months beforehand will give family and friends a chance to schedule around the occasion. If you choose an outside venue, be sure to have a plan in place in case the weather gets in the way.
Create a Guest List. In most cases, this will include immediate family and close friends. You may also want to include some of your extended family and other acquaintances.
Determine How You Will Send Invites. While many people choose to mail their invites, it can be more economical and efficient to create a private Facebook event. Doing it this way also makes it easy for family and friends to RSVP and see all the necessary info about the event.
Set a Budget. The venue, food, and decorations will be the major factors you'll need to consider here. If you plan on sending invites through the mail, you'll also want to be sure to include that in the budget.
While these are the most crucial tasks you'll want to complete in the 1-2 month window, some other things you may want to consider include:
Choosing a Theme. While many parents go themeless for the first birthday party, there are plenty of great first birthday party themes to choose from if you decide to go that route.
Booking the Venue. If you've chosen a location that requires booking, it's a good idea to give them a call to check on availability as soon as possible.
Book a Caterer. This is another decision that will depend on your unique situation. If you do plan on hiring a caterer to save time, however, you'll want to book them for your intended date right away.
2
Planning a 1st Birthday Party Checklist – 2-3 Weeks Before
Now that you're all set with your date, time, location, and guest list, it's time to start focusing on the actual party.
Here's the 1st birthday party checklist we use starting at the three weeks before point:
Confirm Guest List Numbers. If you've sent your invitations through the mail, you'll want to be sure to text or call those that haven't responded. If you went the Facebook event route, this should be relatively easy.
Planning Your Menu. If you decided to do the food on your own, it's time to start planning for everything you'll need based on your guest numbers. If you went with a caterer, it's time to start discussing the type of food you'd like.
Choose and Order Cake. If you're ordering your cake from a local bakery, you'll need to order in advance and set a pickup date (which is generally a day before the party).
Plan and Order Decorations. Ordering online is the cheapest option if you plan on purchasing your decorations. You can find great deals on sites like Amazon, Party City, and Oriental Trading.
Decide on Party Bags. We decided to forgo party bags for our most recent first birthday party because of the stress of deciding what to include. If you plan on going this route, however, now is the time to start planning for it.
Decide on Party Games and Entertainment. You have all kinds of options when it comes to entertainment for a 1st birthday party. And while it's not necessary to play games or hire someone for entertainment, you'll want a plan for keeping young children occupied.
Enlist the Help of Family/Friends for Party Day (or Day Before). Asking for help is a game changer when it comes to your stress levels on the day of the party. Even getting 1-2 people to help set up decorations and lay out food can be a godsend.
3
1st Birthday Party Checklist – 1 Week Before
If you've done all the legwork up to this point, things start to get easier from here. Some of the final tasks you'll want to complete as you near the party include:
Finalize food menu and arrangements
Create a timeline for food prep
Plan how decorations will be laid out
Purchase and organize party tableware
4
1st Birthday Party Checklist – 1 Day Before
The final stretch!
While you may be tempted to try to get everything ready the day of the party, you can save a whole lot of stress by getting set up the day before.
Here's what you'll need to do to wrap up preparation:
Setup decorations
Childproof the party area
Set tables
Buy any last-minute perishable items (ice, buns, etc.)
Pick up the cake
Setup and decorate highchair
If you've done all the necessary prep to this point, all you'll need to do from here is ensure the food is laid out and ready to go.
Other than that, it's time to enjoy the party.
If you're worried about pictures, ask a family member/friend to take them for you. Most will be happy to help in any way they can.
Other than cleanup, there's not much you should have to do following the party. That's it, you're done!
Also read: