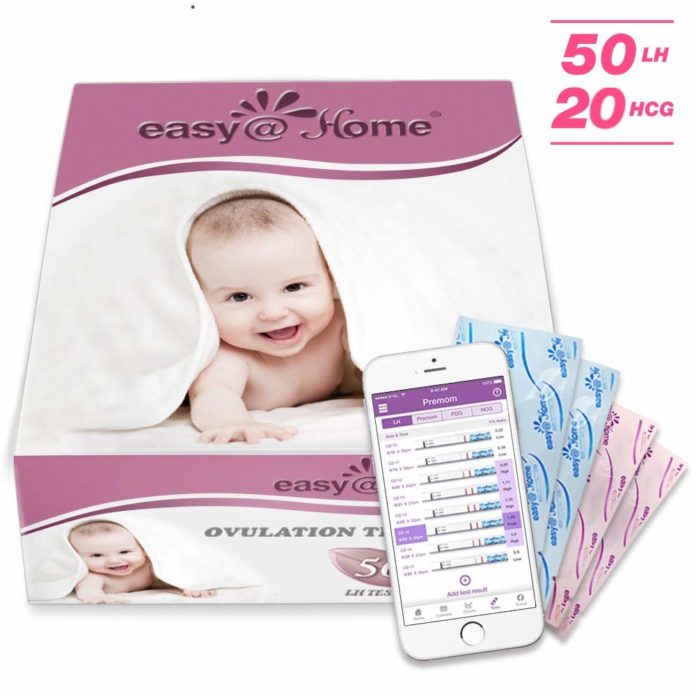 It should be one of the most natural things in the world but getting pregnant is more difficult for some than others. Or perhaps you simply want to maximise your chances by knowing the best time to conceive. Ovulation prediction kits (OPKs) have become increasingly popular, and the Easy@Home test strips have a great reputation for being affordable, simple to use, and reliable.
Specially designed for women who are trying to conceive, the test gives a better chance of predicting your most fertile days – even if your menstrual cycle varies. As well as 50 ovulation test strips, the economical pack includes 20 pregnancy test strips that can be used even before you miss as period – so you can find out quickly if there's a baby on the way.
Backed by the Premom app
As an added support, Easy@Home is linked to the Premom fertility app. Snap a picture of your test results and upload it, and the app will track your ovulation pattern, helping you understand your cycle more easily.
Those who have used the kit have praised it for being easy to use and having accurate results.
"Very clear and easy to read. These are also thicker than most of the 'dipstick' type OPK tests that I've come across. I will definitely be repurchasing these if necessary next month. Definitely recommend to anyone trying to conceive," said one.
Accurate, simple and affordable
"These ovulation strips are very accurate at detecting the LH surge. I've just found I'm pregnant on only my second cycle after coming off the pill and using these test strips. The pregnancy tests also gave me my positive result at 11 days past ovulation – four days before my period was due. I'm very happy with this product."
"I love how inexpensive and easy to use these were. These are great if you don't want to sink £1k plus on a fertility clinic just yet, and the app is an added bonus. Very user friendly."
The Easy@Home 50 ovulation test strips and 20 pregnancy test strips kit costs £13.80 on Amazon. Click here to order yours.