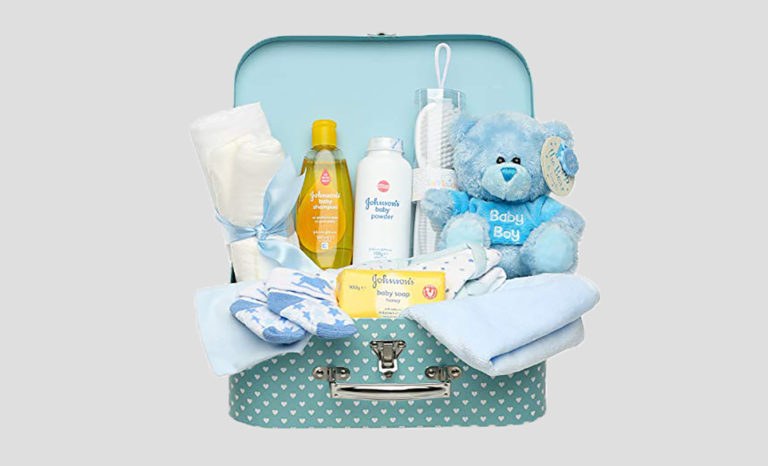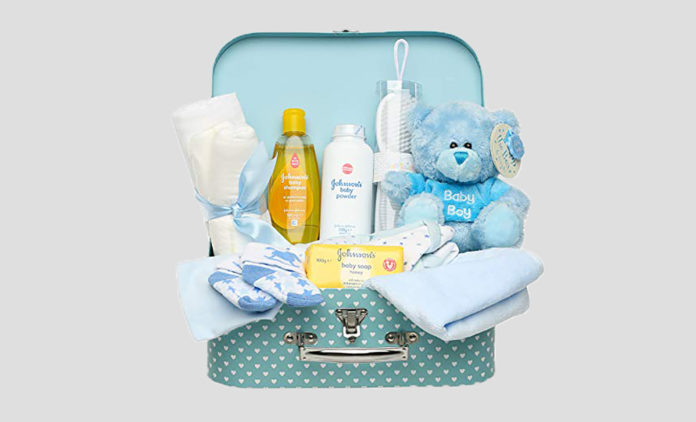 Choosing a new baby or baby shower gift can be tricky. Do you go for something practical you know will be needed or something that can be kept and treasured for years to come? The Baby Box Shop Newborn Baby Gift Set solves your dilemma – it's both!
Filled to bursting with a selection of useful and delightful items, this gift will help keep those treasured memories safe for years to come. The unique box itself is designed as a sturdy case, with a steel clasp fastener and handle. Once the contents are safely stowed in the nursery, it's perfect for storing all those new baby keepsakes.
Thoughtfully chosen
Everything inside the Baby Box Shop Newborn Baby Gift Set has been specially selected. There's a super-soft cuddly teddy bear, along with a large cotton muslin swaddling cloth, a bodysuit, socks, a bib, and a brush-and-comb set. On the practical side, there's a range of bathtime essentials including baby shampoo, soap and powder, plus a soft 100% cotton wash cloth and two nappies (diapers).
"It's the perfect gift," said one reviewer. "I bought this lovely hamper as a baby shower gift. Super-quick delivery and all beautifully packaged – it looked just like the picture and everything in it was top quality. Really pleased, I'd definitely recommend this."
Excellent quality
"I purchased this for a work colleague – I was very impressed with the contents and the mum-to-be loved it too. The keepsake box that it all came in is a really nice addition and means the gift lasts longer than hampers packaged in cellophane or standard boxes," wrote another.
"I bought this for my son's big sister to carry into the hospital," said one dad. "The case was just adorable and fit perfectly in her four-year-old hand – she carried it with so much pride. Couldn't ask for a better gift, worth every penny."
The Baby Box Shop Newborn Baby Gift Set is also available in pink and is available from Amazon for £32.99. Click here to order yours.