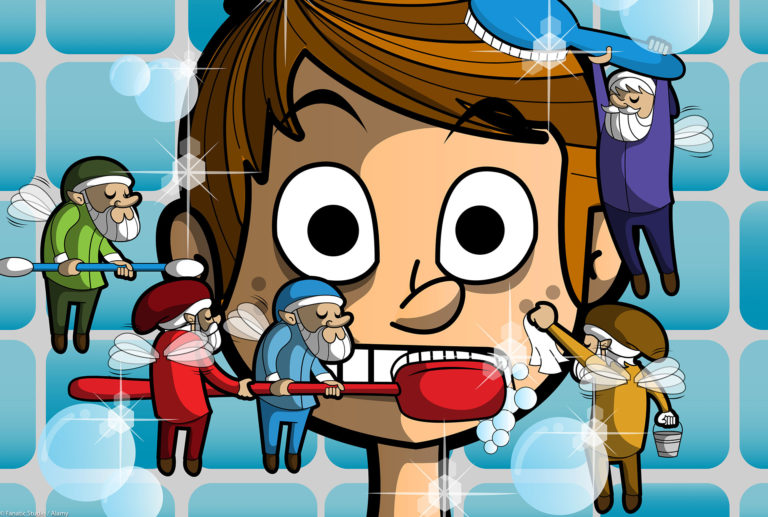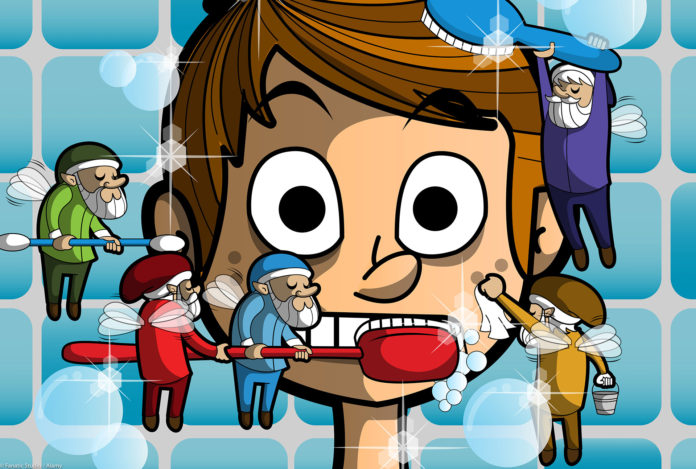 As far as kids are concerned, tooth-brushing is a waste of good playtime. After all, there are so many more interesting things to do, right?
We know how important it is for them to take care of their teeth, but getting your kids used to brushing twice a day, for two minutes at a time, is no simple task.
So don't worry if you need a trick or two to encourage them – try some of our ideas to help them develop good dental hygiene habits while they're still young.
There's no rule saying you have to stand still in front of the bathroom mirror while you brush your teeth – so have some fun! Play their favourite song and let them dance around while they brush, or read them a two-minute story using lots of silly voices. It will make the time pass more quickly than simply setting a timer while you stand and watch.
Take your child to the supermarket or pharmacy and let them choose their own dental products. If a Spiderman-themed toothbrush and some strawberry-flavoured paste are what it takes to get them enthusiastic about brushing their teeth, go with it. Stick to reputable brands, and they'll be fine.
Kids love technology, so why not use an app to help them look after their teeth? Brush Up features Budd, a cartoon robot who teaches kids to brush their teeth better; there's a catchy song, and a magic mirror that puts your child on the screen with Budd. Brusheez – The Little Monsters Toothbrush Timer lets your child make their own Little Monster to join them as they brush and dance together, while the Disney Magic Timer features 23 difference characters from Disney, Marvel and Star Wars to encourage kids to brush. All are available on iOS and Android.
Make a reward chart and give your child a sticker to put on it every time they brush. Choose stickers you know they'll love, but keep them secret so they get excited about finding out what the next one will be. You could give bigger rewards after each successful week or month of brushing, such as a new toy or a special weekend outing; you'll know how to motivate them best. And encourage them to show off their healthy, bright smile to everyone.
Enlist the support of your child's favourite television show or book character; many, such as Sesame Street, have special stories about tooth-brushing. Watch or read them together, and use them as an example when it comes to tooth-brushing time.
6
Let them practice on you
Ok, we understand you might be nervous about letting your child loose on your teeth, but it can be worth it. Play 'dentists' and let them brush your teeth for you, then you do the same to them. Turning it into a game will make it seem less of a chore, and it's a good opportunity to help them with their brushing technique, too. If you really can't stand the thought of it, and if tooth-brushing is becoming a real issue, you could always consider the Baby Alive Brushy Brushy Baby Doll – it comes with a tube of pretend toothpaste and pretend electric toothbrush!
7
Make it a family activity
Children learn from their parents – so it's up to you to set the example. Brush your teeth together when possible, in both mornings and evenings. It doesn't matter if their bedtime is earlier than yours – your own teeth won't complain about a little extra TLC! It's a good chance to show them that you brush your tongue and reach right to the furthest back teeth, and let them watch you floss, too. At the end, check your teeth together with a great big grin into the mirror.
Also read: