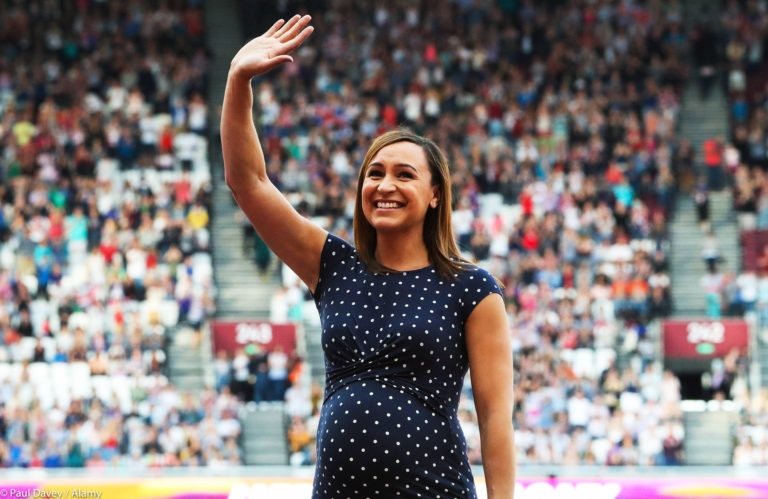 She was Britain's poster-girl for the London 2012 Olympics and the nation celebrated as she won gold in the heptathlon. Dame Jessica Ennis-Hill is also a three-time world champion and took silver at Rio in 2016 before announcing her retirement in October that year. She married Andy, her childhood sweetheart, in 2013 and the couple have two children – son Reggie and daughter Olivia.
Don't get hung up on 'having it all'
There's a lot of pressure on mothers to 'have it all' – many of us feel we have to juggle our home, work and personal lives effortlessly. It means we often feel inadequate but Ennis-Hill believes we shouldn't compare ourselves to others.
"To 'have it all' is very personal. What it may mean to me may be very different to another mother. To me, 'having it all' is about my child and having all my family around me and, of course, having a successful athletics career. It's whatever makes you happy. My advice to others would just be to do the best you can and enjoy it."
Appreciate your support network
Just a year after giving birth to Reggie, Ennis-Hill was back on form – she won gold in the World Athletics Championships. She says the support of both her and Andy's families was key in helping her return to the top. They rallied round to offer support as she juggled motherhood and her professional return, caring for her son if she had to train when her husband was working.
It's tempting to try and do everything yourself once you have a child, but we all need a helping hand sometimes. Appreciate whatever support is there and accept it when you need to.
Follow your dreams
Becoming a mother doesn't mean you have to abandon your own goals – even though it's entirely natural to want to devote yourself to your baby. Ennis-Hill always intended to return to athletics after having Reggie but says she did waver after he was born. She also admits leaving him for two weeks to compete in the World Athletics Championships in Beijing in 2017 was "the worst feeling ever".
"It's the hardest thing I've ever done, juggling everything and becoming a new mum. I thought, I've achieved my dreams. Shall I call it a day? And then part of me though, you've only got a year or two left in your career," she recalls.
Don't stress about getting 'in shape'
When celebrities' bodies seem to ping back instantly to their pre-baby shape after giving birth (if the photos we see in magazines are to be believed) it can be a bit daunting for us mere mortals. Ennis-Hill says women shouldn't put so much pressure on themselves.
"I wouldn't want people to think I'd had Reggie and just stepped back onto the track. That it was all easy and fine. It's not; it's really hard to get back to that level," she says. "Take little steps. Make sure you do the small pelvic floor exercises – all the little important ones and build those up. When you're a mum you're burning energy anyway, so you've to remember you're doing all of that too. You're non-stop."
Help them reach their goals
It's well known that Ennis-Hill and her mother, Alison Powell, have a very close, strong relationship. The athlete says she wouldn't have won any of her world, Olympic or European medals without her mum's backing. She says parents should back their kids – whatever their dreams may be.
"A mother's role is so important in helping their children reach their goals. She's always supported me or been there for me when things haven't gone to plan, or when I was beginning my journey through sport. She's always given me that gentle encouragement while always being there in the background."
Also read: