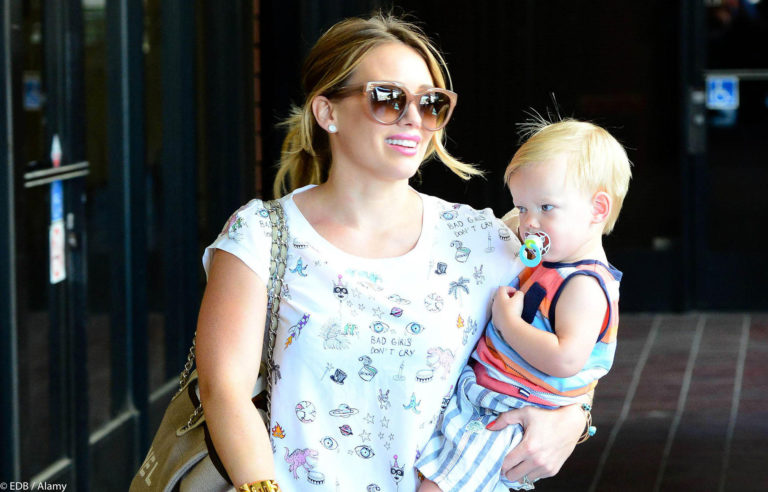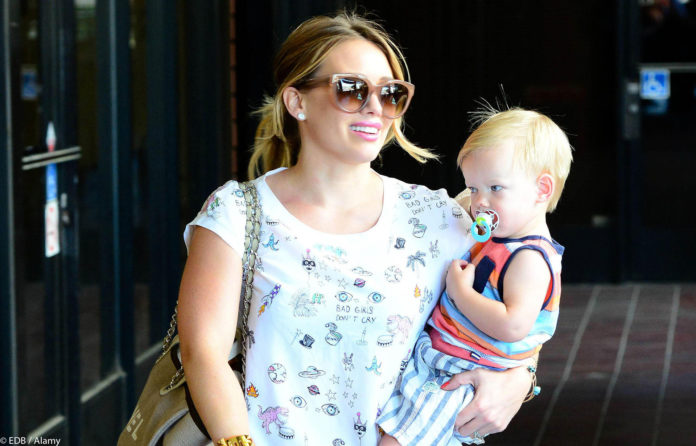 She shot to fame as the title character in the Disney Channel series, Lizzie McGuire before appearing in movies including Agent Cody Banks and Cheaper By the Dozen. Since then, Hilary Duff has made a name for herself as a singer, songwriter, comedian, producer, designer and author. Her business interests also include fashion, cosmetics and children's products. She has two children – a son with her ex-husband, Canadian NHL player Mike Comrie, and a daughter with her current partner, the singer/songwriter and record producer Matthew Koma.
1
Do what's right for you and your child
When Luca was born, Duff talked openly about how much she loved nursing him. She said breastfeeding was a wonderful way to bond, and it felt good to see her baby thrive and know she was responsible. Then, when she introduced formula feeding a few months later, she said she felt judged by other mothers.
Duff began to speak out for a mother's right to make her own choices. She teamed up with older sister Haylie to launch the Sisterhood Unite campaign, which encourages mothers to support each other.
"Your formula-fed baby still goes to college," she said. "You know what else a formula-fed baby will do? Everything. Except eat their mushy peas, because all babies hate mushy peas!"
It's easy to get lost in our busy lives. We feel as though we're struggling with everything we must do, worry whether we're doing the best we can. We can forget what's important and miss out on the small moments that make life special.
Duff says she keeps a daily gratitude journal where she notes down a few things each day that bring her joy. They might be the simplest things – one day, she was thankful for the skip in her son's step. Experts say gratitude journals can helps us sleep better and keep us focused on what's important – so she could be onto something.
3
It's ok not to be perfect
Many parents feel they have to appear as though they're managing just fine – even as they're slowly being swamped by the demands of family life. It's good to know celebrities suffer the same issues and feel just as helpless as the rest of us sometimes.
"Parenting is definitely harder as your child gets older," Duff said during an interview with Parents Canada. "They start to have an opinion and say 'no' 300 times a day, so I'm just trying to figure things out day by day. Luca is a really mellow kid, but he'll still have meltdowns or tantrums. If we get worked up while Luca is getting worked up, then there's no balance. We try to be strong with him when we need to."
4
Ask for help if you need it
Being a parent is hard work. Some days are tougher than others, and Duff says it's ok to realise you can't always to everything yourself. Self-care is vital – if you don't look after your own wellbeing, how can you be what your baby needs?
"I think asking for help on a tired day isn't a sign of weakness," she says. "A lot of changes have come into your life quickly and it's important to take time for yourself. Whether that be a workout, a bath, shopping with friends or even reading outside for half an hour, all moms should take that time."
5
Shower your kids with love
Duff believes in being openly affectionate with her kids and says every parent should make sure their children know just how much they are loved. A few years ago she came in for some criticism on social media after posting a picture of herself kissing son Luca on the lips, as some people felt this was wrong.
But the star quickly hit back. "For anyone commenting that a kiss on the lips with my four-year-old is 'inappropriate', go ahead and click a quick unfollow with your warped minds and judgement," she said.
Also read: