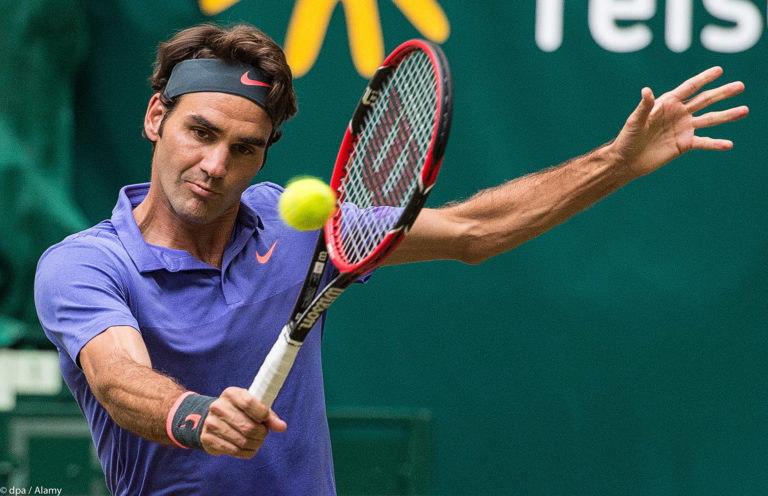 Swiss-born Roger Federer has won more Grand Slam singles titles than any other male tennis player – 20, to date. He's one of eight male players to complete a career Grand Slam and has been named Player of the Year and Sportsman of the Year at countless ceremonies worldwide. He is married to former Women's Tennis Association professional Miroslava, known as Mirka. The couple have two sets of identical twins – their daughters were born in 2009, and their sons in 2014.
When asked what parenting advice he'd give fellow tennis professional Serena Williams, who gave birth to her first child last year, Federer said it was important both parents were in tune. He feels it's important to agree on how you want to raise your child, as well as deal with issues such as discipline.
"I do believe you want to be on the same wavelength when it comes to how you want your kid to grow up," he said. "That's crucial."
Babies like routine. It doesn't mean everything is set in stone – you can still be flexible. But having some structure in place helps both you and your child. You know what you're doing, and they know what to expect.
Federer says he and Mirka found routines especially helpful as they were getting used to having two babies at once, not just one. "It's important to do night shifts, diaper changing, the whole set-up of routines over the day," he explained.
Just because you're good at something or love a particular activity, it doesn't mean your child has to follow suit. Even if they show special aptitude or love for something, parents shouldn't push them too hard. They should be allowed to develop without feeling under pressure.
Federer says his own parents found the ideal balance with him, and he will do the same with his kids. While parental support and advice is important, he doesn't believe kids need space to develop on their own.
"I don't know if the kids will ever play tennis at a high level. But I think for any kid it's important for them to enjoy what they're doing, whatever sport that is," he's on record as saying.
4
Kids should learn to work for what they want
Federer wants his children to understand that they should work to achieve their goals. And then keep working, because life doesn't hand everything to you.
"I told them the other day they can be anything they would want to be, as long as they work hard at it," he said. "I told them that after all these years, I still go out and train, trying to improve."
Federer tries to spend as much time as he can with his kids. He's open about how much he misses them when he's away playing tennis. When he's home, his priority is to be around them as much as possible.
'Family first' is one of the rules he lives by. "I will stop playing tennis if Mirka says she doesn't want me to play anymore," he's said.
6
Care for those less fortunate
The tennis star is known for his charity work and founded the Roger Federer Foundation in 2003. The organisation supports educational projects in Africa and Switzerland and raised $8.5 in 2017 alone.
Federer leads by example. He is personally involved in the foundation, making time to visit children who benefit from the charity. He hopes to instil the same values in his children as they grow up.
Also read: