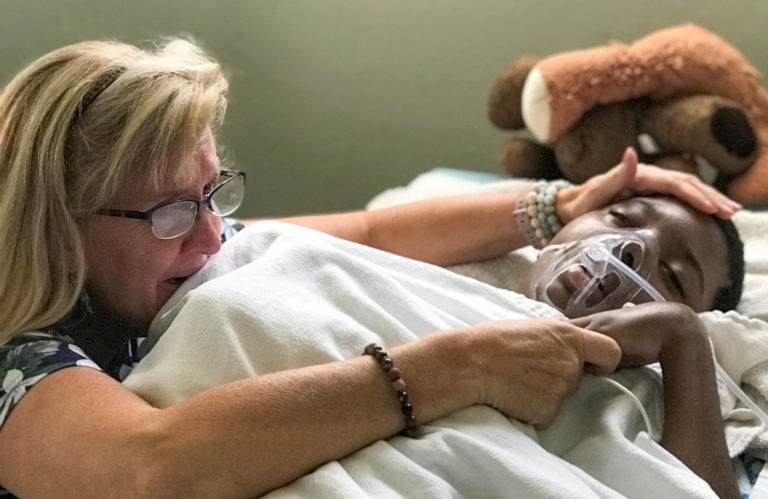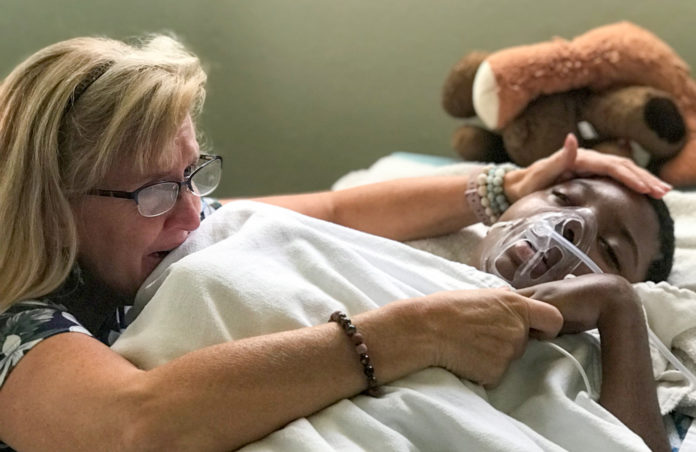 Every baby, every child deserves to know love before they die. They deserve to be held, to know they are truly cared for, and to experience the best life they can. I honestly believe that, and that's why we do what we do.
My family and I started to care for terminally ill children back in 2012. Over the years, we have fostered and adopted seven kids – and yes, we've experienced loss and grief along the way.
Our first baby girl, Emmalynn, lived for 50 days before she died in my arms. She was just two weeks old when she came to us, born without the right or left hemispheres of her brain. The doctors said there was no hope for her and she was in a vegetative state – she couldn't see or hear and could respond only to pain. They asked if we could take her.
She could have died in hospital, alone in a crib sustained by a feeding pump. Instead, she became part of our family. My husband, Mark, and I have eight biological children of our own so suddenly she had eight siblings. She was cuddled constantly, and we took her everywhere.
On her last evening with us, I knew she was fading. I'm a registered nurse with a lot of maternity, perinatal and hospice experience, and I could tell her time had come. Everyone got to kiss her goodbye. Mark held her close and sang to her. Eventually, just my daughter Charity and I were left. I snuggled Emmalynn into my bathrobe and sang to her. She passed away peacefully, next to my heart. She wasn't in pain and she wasn't alone. We cried, of course. We were sad. We're human, after all. But in time, we understood that the opportunity we'd been given was a gift. We began to think about other children who might be in a similar situation.
We are all dying. That's a fact of our human existence. Some children have diseases, conditions or genetic disorders that mean they won't get to grow up like most of us. Not all of those are lucky enough to have biological parents who can look after them and care for them. I don't believe they should be abandoned or miss out on the love of a family because of this.
Our wonderful adopted son Charlie came to us in October 2014 at just a few months old. He had severe brain damage from birth and wasn't expected to live past two years old. He's now almost five. He does have ventilator support at night but has grown strong enough to breathe on his own during the day. There are times when he is overcome with secretions and we've had a difficult time assisting him to clear them and be able to breathe effectively.
It is hard to see him struggling and we do what we can to alleviate any suffering. One of these days, our efforts to help him will not be successful. We refuse to live in fear of that day, dying a thousand deaths dreading the one, but instead are grateful for any time we have with this precious boy. We'll deal with his dying when required; in the meantime, we're living while he's living.
He's been on trips and adventures, and we've even got a bed big enough so we can cuddle up with him while he's attached to all the tubes and machines that keep him alive. While he's been with us we've cared for four other foster kids too. We've loved them and nurtured them, and I'm delighted to say they've now moved on to their adoptive families.
And then there was Samuel – our T Bear. We first met him when he was 13 years old. He'd been a pretty rambunctious, active child but had leukodystrophy, a degenerative brain disorder. After a sudden devastating illness he needed 24-hour skilled nursing and his family couldn't provide this level of care.
I've always seen myself as a baby person, but he touched my heart. It hurt me to think his disabilities, his size and his age would mean he'd end up staying in the hospital or in an institution. We simply couldn't take him in November, as we were full up with our other foster children, but they went home in December. In January 2017 – two months later – we asked if he could come to us. We wanted to give him a loving home, surrounded by faith and people who cared for him.
We called him T Bear because after I saw him in the hospital, I thought he looked like a little chocolate teddy bear. Mark said we couldn't call him Teddy Bear, that he needed a 'proper' guy name – so T Bear it became. He came home to live with our family in March 2017.
He needed unconditional love. His medical condition left him completely unable to get out of bed or move on his own. We couldn't change the fact that he was going to die but we were able to make a difference in his comfort in the months before that happened.
We were thrilled when we were told he could be adopted and chose the name 'Samuel' because it means 'God heard my prayers'. The legal ceremony took place in September 2018 and the judge even came to our home so we wouldn't have to transport Samuel, so weak and fragile, to the courthouse. We had family, friends and people from the local community around – it was really special. Everyone clapped and Sam broke into the most beautiful smile.
He died not quite three weeks later. I could see the signs that morning. He was gulping rather than breathing, and I can't describe the pain of watching your child struggle like that and not being able to help. I had tears streaming down my face, and prayed to God to take him quickly, to please not let him suffer any more. It was all over by late afternoon.
My pastor called that evening and expressed his sorrow over our grief. It was incredibly comforting to know Samuel was no longer struggling, and also had no memory of doing so. We had promised to love him through it all, the good, the bad, the sad and the joy.
People ask how we can do this. How we can care for a child we know will die, more likely sooner than later. I am often told what I am doing is an amazing thing. "I couldn't do that," is something I hear a lot.
In part, the compelling desire comes from what happened to my younger sister, Amie, who contracted spinal meningitis as a baby. She was left severely mentally and physically handicapped and at age five went to live in a home for kids with similar disabilities.
At the age of 11, she wandered out of an unlocked door and drowned in a nearby pond. My prayers that God would heal the wound in my heart over her tragic death have been redeemed. Amie is good and I'll see her again. The children we've cared for in her memory have been blessed by the empathy we have for their situation.
The truth is, we are grateful to be able to care for these little ones. We have learned to be patient and kind. It makes us better people and enriches our lives. It's a real roller-coaster of emotions, that's true – we don't know how much longer we have with any of the children who come to us. But we don't know how long any of us have, in truth. We could get hit by a car or struck down by a sudden illness tomorrow.
A brief life doesn't have to be half-lived. My purpose is to give these babies the best life they can have. Here's an example. We were told Charlie was blind. He doesn't respond to medical sight tests. Yet one day, he turned his head to the left where Mark was sitting beside his wheelchair. He reached out his arm to Mark's face.
I asked Mark to go the other side. Charlie turned his head to the right. Just to be sure, I got Mark to move back to the left. Same thing happened. Charlie knew where Mark was. He might not be able to speak or see, but he can communicate with us. He knows we are there and that we love him.
We all need human contact and love. We all want to know someone cares about us. These children give meaning to our lives every bit as much as we try to do the same for theirs. I want to hold them in my arms when they die. I want them to know they are loved, that someone is there for them right at the end, staying with them no matter how hard it is.
Yes, parts of our story are sad – but there is so much happiness, too. We don't focus solely on the painful times because 95% of our lives with these children are joyful. And 100% filled with love.
Also read: