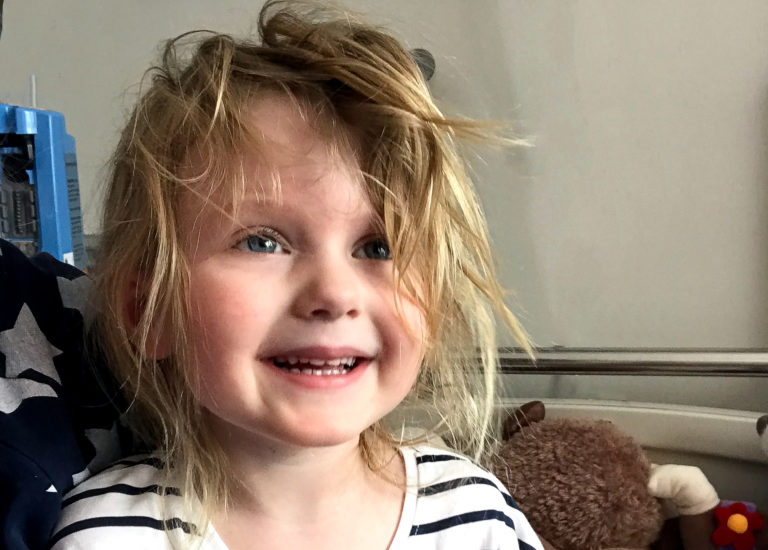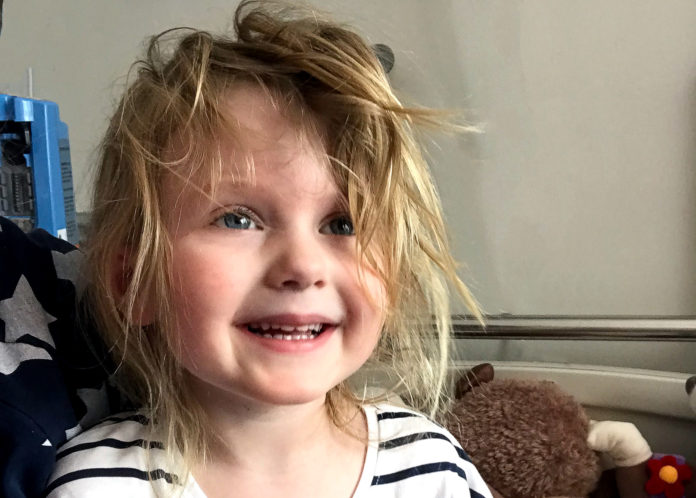 When I read the announcement that new research into a therapy for the currently-untreatable Mitochondrial Depletion Syndrome is to be funded by a UK charity, it brought a smile to my face.
At long last, a cure may be found. Lives may be saved.
But it brought tears to my eyes too, because it's too late for our precious daughter, Grace, who died from the condition on April 23 2017 at just three years old.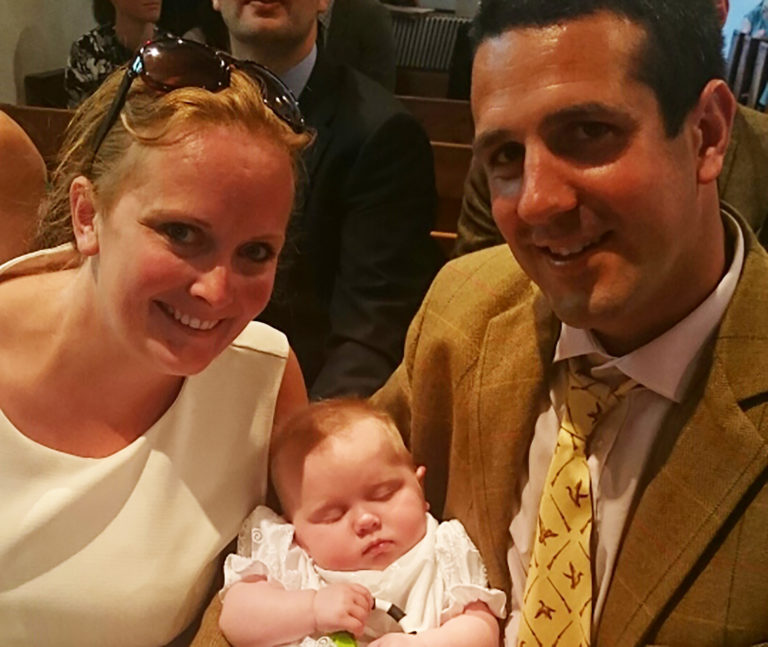 My husband Stuart and I were delighted when we discovered we were expecting our first child. After a normal pregnancy, Grace was born on February 14, 2015, at Horton General Hospital in Banbury.
Her birth was quick and, apart from the need for forceps, straightforward. Stuart, then 32, was with me when she arrived – she weighed a healthy 6lb 15oz and was as bald as a coot.
Once back home, she was an easy baby. She suffered a bit of reflux but didn't cry much and slept through the night from eight weeks.
We loved being parents. I was on maternity leave from my job as an administrator and Stuart's job on a farm meant Grace spent lots of time helping with the sheep and seeing to the horses.
By 18 months she finally acquired some gorgeous blonde hair, and she was two when I found out I was pregnant with our second child in spring 2017. As my bump grew she loved to cuddle it and talked excitedly about being a big sister.
One thing worried me though – how unsteady she was on her feet
Her speech was fantastic and she was such a bright little thing, with what had become a mass of blonde hair. One thing worried me though – how unsteady she was on her feet.
She didn't walk until about 21 months and insisted on holding my hand if we went out. I mentioned it to the health visitor but was reassured she was just clumsy.
When she started pre-school in November 2017 I raised it with the staff and they agreed to monitor it.
In the meantime, Elliot, was born on December 18, 2017. Grace loved giving him cuddles and was so gentle.
That same month her pre-school agreed maybe there was more to her unsteadiness than just clumsiness, and we applied for a referral for a specialist assessment.
Our appointment was scheduled for April 10, 2018, but we never made it. On Friday, March 23, Grace woke as normal and had breakfast with Stuart, but then became cuddly and clingy. I could tell something wasn't right.
She lay down on the sofa and started being sick.
Instead of panicking and crying – a child's usual reaction to vomiting – she simply lay there and let it pour out of her. When her eyes started flickering to the left, I had a feeling deep down that something wasn't right.
Doctors seemed calm and reassuring so I was confident that whatever it was they would be able to fix it
Worried, I phoned the doctor. I carried her into the surgery, where he checked her over before sending us to the Horton.
They did a CT scan and monitored her on the ward. By Saturday the eye-flickering was still happening so she was transferred to the neurological department of the John Radcliffe Hospital in Oxford.
Doctors seemed calm and reassuring, so I was confident that whatever they found, they'd be able to fix it. Grace would be fine.
My sister looked after Elliot as Stuart and I stayed with Grace while she had an MRI scan, an echo, an ECG, an EEG, blood tests, and a lumbar puncture.
I'd heard of mitochondrial disease because of the high-profile case of Charlie Gard
Tests showed she had suffered a small stroke. When the lumbar puncture showed both her protein levels and her lactate levels were high, the neurological consultant explained that he suspected mitochondrial disease or something metabolic.
I'd heard of mitochondrial disease because of the high-profile case of Charlie Gard, but I didn't really know what it was.
Of course, I was upset, but at the same time I was in denial – telling myself it wasn't going to be that, and Grace was going to be fine.
They put her on some special vitamins to help. They'd worked out the eye-flickering was seizures, so she was on an IV drip of anti-seizure medication and that seemed to get it under control.
After about five days she was more like her usual self – eating, watching things on the iPad, running around the ward.
Then, on the night of Wednesday, April 4, she struggled to sleep. But she chatted away happily every time the nurses came to check on her and wasn't unhappy or in pain.
She was watching Shaun the Sheep on my phone when she suddenly couldn't see anything
The next day we took her outside in a buggy; she loved being in the fresh air as we pushed her around the hospital grounds. She didn't sleep that night either, though, and then on Friday, the eye-flickering returned – in the other eye.
She was watching Shaun the Sheep on my phone when suddenly, she couldn't see anything. Then she started being sick again.
I rang the emergency bell and her lips began to turn blue.
We watched helplessly as the crash team ventilated her and she was taken to ICU.
Tests showed she'd suffered another stroke and in the days that followed, she remained unconscious.
At that moment our whole world crumbled
Stuart and I stayed with her, talking to her, holding her hand, and waiting for a diagnosis.
Finally, two weeks after she'd been ventilated, the consultant broke the terrible news – our daughter did have mitochondrial disease.
At that moment, our whole world crumbled. I still can't remember exactly what was said or what happened next – it didn't seem real.
There is no cure or treatment for mitochondrial disease. It's a genetic condition and there was nothing they could do for her. Essentially, Grace was born with it, and besides the walking problem, there were no other indications she was affected.
It was up to us how long she remained ventilated. Doctors explained that once the ventilator was turned off it was impossible to tell how long she would survive – minutes, hours, days.
In a daze, we phoned our family and over the weekend they came to say goodbye.
Doctors took blood from Stuart and me to establish if we were carriers, and also from Elliot, to see if the disease had been passed onto him. There was a 1 in 4 chance he had it, and a 50% chance of him being a carrier.
I asked the consultant if that meant her tiny body was giving up
Over the weekend Grace's temperature kept spiking and her sats dropped. I asked the consultant if that meant her tiny body was giving up, and she agreed it probably was.
So, after seeking the opinions of all the specialists, on Saturday, April 21 we agreed Grace's ventilator could be switched off.
It's the hardest thing any parent will ever have to do, but we knew deep down that keeping it going any longer would simply prolonging her suffering.
It meant Stuart and I got to be with her, to hold her in our arms as it happened. It meant we never had to leave our darling girl's side until she slipped away at 13:02 on Monday, April 23.
We spent a couple of hours with her afterward, and part of me felt like I never wanted to leave her. Another bit of me wanted to run away and pretend it had never happened.
It didn't feel like home any more, and Grace's toys and clothes were everywhere
Going home without Grace was impossible. It didn't feel like home anymore. Grace's toys and clothes were everywhere, and at first, I left it exactly as it was. We were stuck in a haze of shock and grief.
We found out both Stuart and I are carriers of mitochondrial disease, but luckily Elliot doesn't have it. That was a relief – but it didn't make Grace's funeral, on May 4, any easier.
Afterwards, I made her bed, tidied everything up, and even gave all her clothes to a friend for her young daughter. I was desperate to know someone would use them like Grace would, someone who would run around the muddy fields happily chasing sheep like she did the day before she got sick.
Not a day goes by when I don't think about Grace. I talk to Elliot about her all the time, and we have her ashes at home. I often go into the garden and sit on the beautiful bench her godfather made in her memory.
We never lived in the shadow of death
We only had one month with Grace from when she first became sick to when she died, and for three years we lived in blissful ignorance that she was carrying a deadly disease. But it meant we never lived in the shadow of death, and the time we had with her was happy and worry-free.
Now, I'm telling our story to thank the amazing staff at the John Radcliffe Hospital and to raise money for the Lily Foundation. The news that the charity will fund research into therapy for the condition is long overdue. It's too late for our daughter, but if it can stop another family going through our experience, it's worth it.
To donate please go to: https://www.justgiving.com/campaigns/charity/lilyfoundation/teamgrace
Kira Connor was talking to Rachel Tompkins
Share your thoughts with us here and on social media. And if you would like to share your story with us, contact us here or by email and let us know. We will help you tell your story.
Also read: