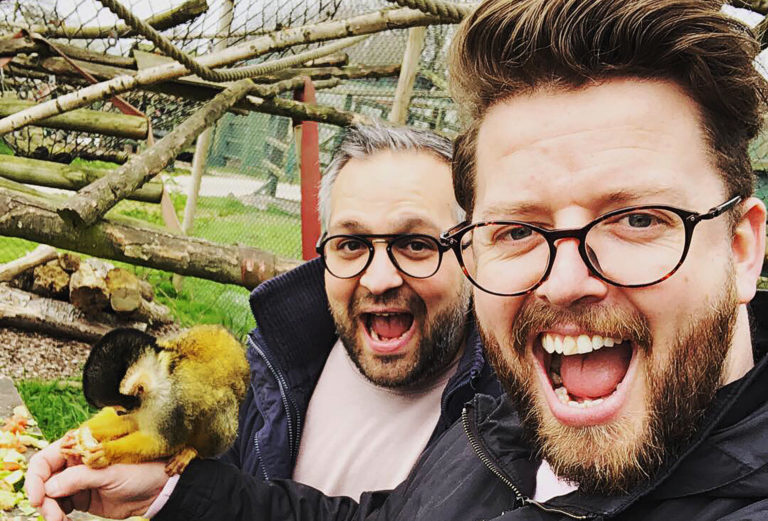 It's a big thing for any couple to decide they want to be parents. To agree they're committed enough and responsible enough to bring up a child together. For most mixed-sex couples, biology takes care of the next bit. But for some, and for same-sex couples, the road is more difficult.
Darran and I have been together for just over three years, and we were sure pretty early on that we wanted to be together always. We talked about our plans for the future – marriage, our own home, a family – and agreed that becoming parents was our priority. There were several options as to how that might happen, but we decided to look at adoption.
We spoke to our own parents, who were delighted with our decision. My mum and dad already had two grandsons but were desperate for me to add to the clan; Darran's parents weren't grandparents yet so they were keen too. Having the support of our families meant the world to both of us, and it made a long, bureaucratic process that much more bearable.
In October 2017, we contacted our local authority's adoption agency and a few weeks later we attended our first adoption meeting. There were maybe ten other couples in the room, three of them same-sex. At that stage we had no idea what adoption would entail, especially for us – we were worried that being gay men would make it that much more difficult.
We heard from representatives of Essex County Council and the adoption agency, and also from someone who had adopted two children with his husband. Listening to their journey was helpful and helped settle some of our apprehension – both Darran and I felt far more optimistic afterwards.
In England, the adoption process is split into two stages. The first lasts two months and includes filling out a 52-page workbook. There are questions on just about every aspect of your life – family, education, health, you name it. I found it pretty easy, but Darran didn't. He'd moved around a lot and had some family problems. He'd locked bits of his past away in the deepest recesses of his memory, and it was a struggle to prise them out.
As well as our workbooks, over the next few weeks we attended a couple of sessions to help us understand how the process worked and what we needed to do. We were grateful to meet another gay couple, Jonny and Anthony – being able to talk to others in the same situation, on the same journey, really made it easier. They remain our firm friends to this day. Our evenings were spent filling in our workbooks and trying to arrange our medical checks. We couldn't believe how difficult this was! It was really important, too – we couldn't go onto the second stage without them.
Weeks passed. We finally submitted our completed workbooks, and family and friends received reference requests – another stressful time. While I'd led a pretty average life, Darran's story was different. He hadn't spoken to his birth mother for something like eight years, and both his father and older brother disowned him when he came out. The people he calls 'Mum' and 'Dad' are really his aunt and uncle. He does have a younger brother, but they've never been close.
On top of that, he'd moved around a lot and couldn't recall exactly where he'd lived and when over the past ten years. It was far easier for me – I'd only had three different addresses, and all in the same town. We also had to state any significant relationships, such as people you'd lived with, and Darran had to contact an ex-boyfriend for a reference. We were also allowed to choose one family member and two friends as referees.
Slowly, it felt as though we were getting everything together – and then we got a reminder from the local authority saying they still hadn't had the results of our health checks. Yep, this was still going on – we'd been chasing for an appointment but getting nowhere. We were told that if we couldn't sort it out soon, we'd have to remain in stage one of the adoption process for an extended period, rather than be assessed to progress to stage two. We felt anxious. Who knew what that would mean when they looked at our application?
It was early April when a senior practitioner with the local authority got in touch to say she wanted to meet. There were some events in Darran's life and details about his childhood that she wanted to discuss in more depth. It felt very formal and Darran was downcast afterwards – he said if we weren't approved to adopt, it would be all his fault. I tried to ease his fears. Yes, he'd had a colourful past, but he was – and still is – an amazing human who would make a fantastic father. We had to be positive.
And then, on 4 May 2018, we got the email. "Hello Darran and Tim, I am pleased to inform you the decision has been made for you to progress to stage two." We couldn't help but cry – we'd been by no means certain it would happen now but here we were, a step closer to our dream.
A month later, stage two started with three days of mandatory training. We learned about 'the development wall', attachment, neglect and abuse, toxic stress and other topics – and that was just on day one! The second day was really emotional, as we talked about loss in a child's life and shared our own experiences, which ended with everyone in tears. We heard stories from mothers who cared for children going through the adoption process, and what that was like from the child's perspective. The final day was less intense and focused more on the rest of the process and what we could expect as an adoptive family. By the end of it all, we and the other three couples doing the training were firm friends. That kind of experience forges bonds that aren't easily broken.
We were assigned a social worker, Ann, and had to meet with her each week for nine weeks. This was an opportunity to talk about our workbooks, and for her to really get to know us (and us her). We discussed what we expected life to be like as a family, our hopes and dreams, and so many other topics. She also showed us profiles of some of the children looking for their 'forever family'.
And that's when we first heard about the little boy we nicknamed Pudding. The little boy who I just knew, somehow, would become our son. We learned he had partial hearing loss, needed hearing aids, and had an absolute love of music. We read his profile, looked at photos, and were smitten. We both knew Pudding was everything we wanted in our lives.
It was by no means a done deal, though. At the end of September, we went to a profiling event where we learned about many different children who needed a permanent home. We kept an open mind, but also managed to talk to Pudding's social worker. At the end of the day, we filled out a 'register of interest' form for four children, one of whom was Pudding. (If we'd been allowed, we'd have simply adopted all four.)
The next step was to talk to our social worker to discuss our choices further, and then reduce our preference down to two. In all honesty, I think that was the most difficult part of the whole process.
And so on to our approval panel meeting, which took place in Colchester on October 15 at 10.55am. Our social worker was there, of course, and did her best to make us feel relaxed – but it's fair to say we were somewhat stressed. It felt as though everything, all we'd worked for over the past months, hinged on this appointment.
There were eight people, six of whom asked questions. After it was over, we were told to leave the room and wait while they made their decision. It felt as though it took forever, though it can only have been about five minutes – and then we learned it was a 'yes'. Darran and I cried and hugged and left the building on Cloud 9 – we were going to be dads!
It was at a specially arranged craft day, with the purpose of meeting children who needed a home, that we got to see Pudding for the first time. We both felt an instant connection with him – it just felt right. When his foster carer told us she'd advised social services that Pudding was more likely to settle better with two men – he wasn't too keen on women – it felt as though it was simply meant to be. I introduced myself to Pudding's case worker and was pleased to learn she already knew who we were.
That was a memorable – and fun – first few hours with Pudding, but then it was time for the serious conversations to begin. A couple of weeks later we met with Pudding's social worker and his family finder. We learned why Pudding was in care and about his past, and answered their questions in turn. We were a good match, they decided.
Hurrah – another milestone reached, another hurdle overcome! The next would be when we went in front of the matching panel, which was arranged for January 7 this year. Whereas the approval panel gave us leave to adopt, this was to formally agree we could adopt Pudding. There was no reason to suppose they would disagree we were the right people to become his family, but it was still a relief when they said yes!
Transition week began on January 25. We'd visit Pudding at his foster carer's house, playing with him and getting to know each other. We took him out to get his hair cut – something he'd created merry hell about previously, we were told, but this time he sat like an angel on Darran's lap. Pudding was brought to our house, where he soon got used to his room and enjoyed playing with his toys. There were medical appointments, errands to run.
And then, on February 6, we brought Pudding home for good. There were still some legalities to go through – adoptive parents have to share guardianship with social services for at least ten weeks before they can apply to become sole guardians. The reason is understandable – sadly, quite a few adoptions do break down even at this late stage. But we were determined ours wouldn't be one of them, and it won't be long now until Pudding is completely, irrevocably our son.
We can't wait. It's no exaggeration to say Pudding has changed our lives. The ups and downs of the adoption process were tough at times, but they've made us appreciate reaching the end of the journey that much more. Did I say end of the journey? Ok, maybe just the end of that particular road. Because our lives as Pudding's dads are only really just beginning. We get to help this little person grow into his character, and we're under no illusions that it will be a wholly easy ride. That's just how parenting is, right?
So we'll embrace every moment, the tough times and the good counterbalancing each other. Our adventure is only just beginning.
Also read: