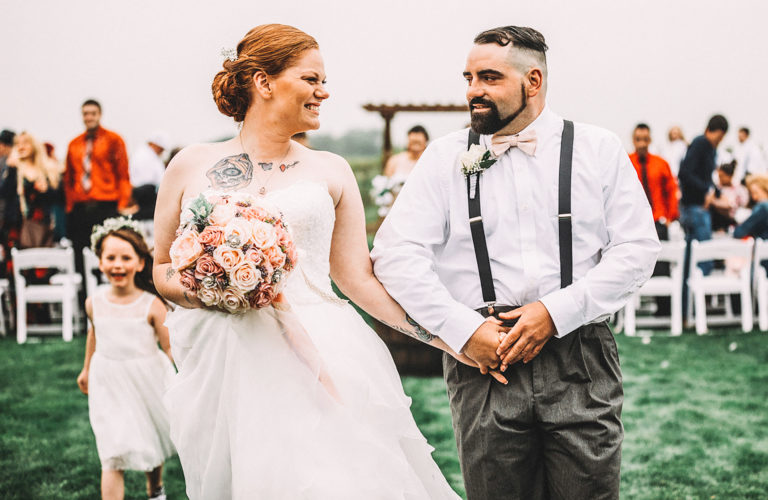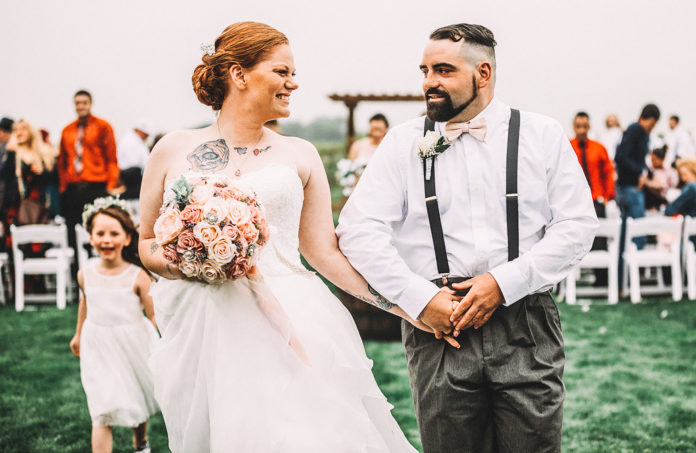 I was 16 years old when I first met Timmy. We were drawn to each other straight away, but we were friends before anything else. As the weeks and months went by, we were soon spending more and more time together. I don't recall him ever asking me to be his girlfriend, or anything formal like that. We just kind of drifted into it – your typical high-school sweethearts. It was all a bit fairytale – until we discovered I was pregnant with our first daughter.
When I gave birth to Riley I was 17 and Timmy and I had only been together for a year. We were really just children ourselves, but suddenly we had to grow up. As any parent knows, looking after a newborn can be stressful. Caring for a child while you juggle a job is tough, and there's never enough money. On top of that, there was still school.
But we did it. We worked it all out, enjoying the highs and battling through the lows. Then, knowing we wanted more children without too big an age-gap, we planned our next baby. Lexi, two years younger than her sister, was just adorable. When she smiled her whole face lit up, and she had the cutest little dimple. I fell in love instantly.
Unfortunately, after a few more years, Timmy and I had to face the fact that our relationship wasn't working any longer. We'd been together since we were teenagers and had never known anything – or anyone – else. Having a child so young meant we'd never even had time to get used to being 'just us'. Luckily, we both agreed it was important to keep things as civil as we could for the children. We had our fights and disagreements, but they were between the two of us. We didn't want problems at home to cause issues for our girls in the future. We didn't want them to feel they had to take sides.
We'd been separated for a few months and I was seeing someone else when I learned I was pregnant with my third child. My son's biological father didn't want to be a part of his life, which was a big shock and very scary for me. Timmy had always been there for me and the girls – it never occurred to him not to be. I wasn't used to being left to cope on my own.
It says so much about the wonderful person Timmy is that he was there for me this time too. He wiped away my tears and calmed my doubts. He told me everything would be ok. That he would be there for our son and our family.
Our son. Our son. In an instant, with the use of that pronoun, all the feelings I had lost came rushing back. Timmy was willing to accept Lincoln as his own, to raise him as our child. I fell in love with him all over again. Watching him hold our little boy, I knew we were meant to be together.
A year later, and we were enjoying being a family. The kids were growing, developing their own personalities. Timmy and I were closer than ever. And when he asked me to marry him, I knew it was the perfect way to set the seal on our lives together. The kids were aged eight, six and two – old enough to understand what was going on, why it was so special, and to be involved.
Lexi was especially excited. She's always had real empathy and an ability to connect to whatever situation she is in, adapting to the emotions of those around her. She wanted to be part of every detail and even had a countdown going to the big day. When my phone rang on the morning of the wedding, it was her, telling me it was finally here. She was so happy!
Arriving at the venue and seeing all my kids dressed and ready to be part of this special event really brought home to me how far Timmy and I had come. During the ceremony, I was aware Lexi was crying but I didn't know why. Then, when I saw our wedding photographs, there it was – a beautiful picture of her sobbing as Timmy and I exchanged vows. When I asked her why she'd been crying, she said: "Mom, it was because everything was just so beautiful."
Her reply made me cry, too. To be six years old and understand just what an important occasion that was, to cry because you were happy and because your parents were happy, not just because everyone else was also sobbing, seemed amazing to me. And it made me realize, again, just what an important step this had been – not just for Timmy and me, but for our whole family.
The emotion on Lexi's face summed up what a big deal it was to the kids that we got married. We can never be completely sure how much our actions affect our children, but this was raw proof that we were doing the right thing. It was totally worth waiting for so they could be there to share it with us.
People ask me what it feels like to be married. The truth is that life is really no different to how it was before – with one important exception. The only real change has been to my last name, but with that has come a peace I haven't felt until now.
For the first time in ten years, everyone in my house shares the same surname. Maybe that's not a big deal for some people, but it is for me and my kids. I no longer have to explain why my last name is different to everyone else's – we are all Gibsons now. And I can finally have that huge wedding canvas on my wall for everyone to see when they come visit.
As our children grow, I hope it reminds them that real love exists. I hope they understand what it means – that it's about something deeper than fireworks and excitement. Their daddy means the world to me, and it's thanks to him that our beautiful family is what it is. Our world is crystallized in that wonderful picture. As Lexi said: "Everything was just so beautiful, Mommy."
Also read: