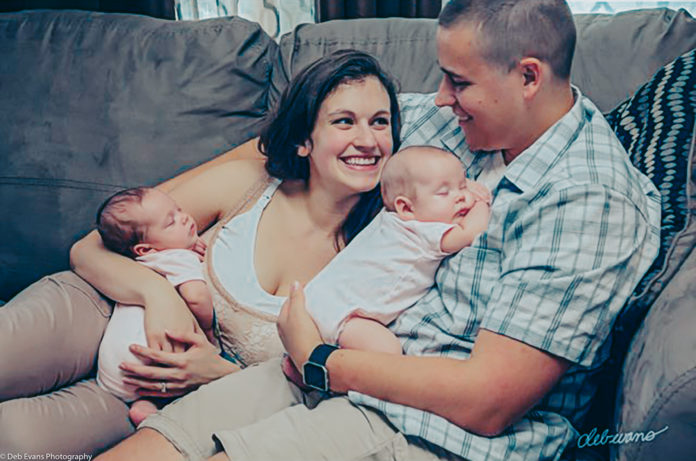 The picture at the top of this story is our first official family photo. No needles, no monitors, no hospital gowns. In it, our daughters may look like newborns but are actually 2 months old. It took over 50 negative pregnancy tests, four surgeries, more than 100 injections, one miscarriage, two emergency hospitalizations, one life flight, an entire week of intense labor and nine weeks of NICU time to get to this moment.
Let me tell you why this picture, and those in it, means the world to me. My name is Sharon, and I married my best friend Richard when we were 21 and 23 years old respectively. We both loved children and knew they would inevitably be our greatest adventure. But we had plenty of time so, first, we set out to establish our careers.
When the time felt right, we started trying for a family. Months went by and nothing happened. We found ways to make each other laugh and pushed it out of our minds. A year went by, and still nothing. That's when the fear could no longer be ignored.
After our initial consultation and testing, came the words we never wanted to hear
After two years of trying, we sought the help of professionals. I'm generally an open book, but talking to a stranger about what wasn't happening between the sheets? It almost felt like a violation. And, after our initial consultation and testing, came the words we never wanted to hear: "You have PCOS, endometriosis, blocked tubes, and male factor infertility (MFI). The only safe way for you to get pregnant is through in vitro fertilization (IVF)."
You know when you think or say you will never be able to do something? That was us with IVF. You really don't know your inner strength though, until you are in the arena, until all other doors shut, and you are left with one option: fight. We could only afford one round. We leaned into our faith and trusted that this was all we needed.
At 24 years old, I put enough hormones in my body to mimic menopause. I had to give myself injections in the middle of work meetings and take frequent breaks to go throw up. My body overreacted to some of the hormones, and I was hospitalized for a week. The doctors inserted a tube into my abdomen to drain the increasing fluids. It was the most pain I had ever experienced, but my only option was to keep going. After crying for month after month over yet another negative pregnancy test, I had something I hadn't had in a long time: hope.
At our first ultrasound appointment, we found out we were pregnant with triplets
Then came the words I had longed to hear: "Sharon…you're pregnant!"
My husband was on the roof putting up Christmas lights. I nearly scared him into a fall with how loudly I exclaimed my joy. At our first ultrasound appointment, we found out we were pregnant with triplets. To some people, that may seem overwhelming. Not to us. The silence of our hallways had haunted us for long enough; we were ready for the beautiful chaos of multiples. We thought the worst was over. Surely, we had been through enough? This was finally our moment! TRIPLE blessings! We were wrong.
When I was ten weeks pregnant, I found out that Charlie's heart had stopped beating. Our precious Baby C left us right before Christmas. Blood spilled onto our bathroom floor, and I shivered in my husband's arms. Both of us were in too much pain to say anything. We went to the doctor almost daily to check on Baby A and Baby B because the fear of losing all three of them was very real.
I felt guilty for being sad about the baby I had lost, and being too happy about the two I still carried
Charlie was gone. I had to somehow find a way to mourn while still finding joy in this long-awaited pregnancy. I felt guilty for being sad about the baby I had lost, and also for being too happy about the two I still carried. We finally came to a place of peace, and, again, we thought that surely we had been through it all. Smooth sailing was well deserved, right?
What we thought had been the worst pain we'd ever experienced was actually mere preparation. Although we didn't know it, we were about to enter the longest ten weeks of our lives. The crux of it all: the worst 48 hours my husband and I have ever lived.
I went into labor at 31 weeks pregnant. I woke up that day planning to go for a swim but, instead, ended up on a helicopter flying across town. The hospital where I planned to deliver did not have a NICU that would meet our needs, so they moved us to another one more than an hour away from home. I was given a cocktail of drugs that filled my lungs with fluid and nearly ended my life, but it bought our daughters one more precious week of growing in the safety of my womb. At 32 weeks the drugs stopped working. Lani and Libby entered the world.
They were immediately whisked off in opposite directions – Libby was critically ill. Everything felt like a blur. The next day, as I sat in my hospital recovery room while my dad tried to keep the host of specialists away for 15 minutes, so I could eat something, the phone rang: "Libby's lungs have collapsed."
Parents should never have to go home without their children, and every goodbye broke my heart a little bit more
By the grace of God, they got her stable and Libby survived. We started to adjust to life with two babies at separate ends of the hospital, with a two-hour round trip from home. It was an endless cycle of 12-14 hours at the hospital every day and then driving home to sleep. Parents should never have to go home without their children, and every goodbye broke my heart a little bit more. I would wake every three hours at night to pump milk and call the night nurses for updates. It was an exhausting roller coaster ride that we couldn't get off. We just wanted our girls home.
Then one night at 1am…ring ring. More words I didn't want to hear – words that changed my life: "Sharon, Libby is very ill. We need your verbal consent to do a spinal tap on her. You should come quickly."
My hands are shaking as I write this. I don't talk about these events with anyone because it's just too hard. Even today, I can't pass a box of CHEEZ-IT crackers at the grocery store without crying. The sound of a helicopter is excruciating. The beeping of hospital monitors makes my vision go blurry and causes ringing in my ears. Let me tell you why.
We got in the car and drove to the hospital. I saw my little girl lying listlessly with an IV needle in her head. A rash covered her face and she whimpered in pain, even when asleep. I grabbed her hand and her eyes met mine. I felt like she was begging for me to take her pain away. Every ounce of my entire being wished I could.
The doctor and specialist rushed over to meet us. All we knew was that she had a very bad infection and needed medicine immediately. Her IV ports kept blowing out, so she needed a PICC line – a peripherally inserted central catheter. They called for the PICC line team to come immediately, and bumped Libby ahead of all other babies to get care. As a parent, that is both comforting and terrifying.
Fear and guilt swept over my body. The day before I had held both of them together. It was a celebration, a milestone
They took my baby to another room and strapped her to a board. They poked her several times and couldn't get a PICC line in. She came out of the room covered in bruises from the failed attempts. As my heart shattered into pieces, my other daughter, Lani, started crying. Fear and guilt swept over my whole body. The day before I had held both of them together.
It was a celebration, a milestone, and a moment I thought meant we were finally getting closer to home. Lani and Libby held each other's hands. I could tell they didn't want to let go. After being separated for ten days post-birth, it was a joyous event to finally be reunited. I had no idea Libby was sick at that time…and now Lani might be sick as well.
"NO, GOD! You cannot take them from me!" I pushed that thought aside and tried to ignore the fear that was gnawing away at my soul.
Things continued to get worse. The entire board of specialists met on Libby's behalf to try to figure out a plan to get medicine into her. The nurse told us she had gotten my husband and I a room right next to the NICU because we should not leave the hospital. Again, comforting and terrifying at the same time. I am so thankful my parents rushed over to remind us to do things like breathe, eat, and go for a walk when the emotions just got too much to handle.
By 10 pm, the staff advised us to go get some rest and that they would come to get us if anything changed. They must have seen the exhaustion in our eyes. We decided to run and grab something to snack on. We grabbed a box of CHEEZE-IT crackers and rushed back to our room. A knock on the door brought yet more words we did not want to hear: "Your daughter has been moved to the critical care unit."
We sat there together on a hospital bed, eating CHEEZE-IT crackers in silence and wondering if Libby would make it through the night. Both of us were scared Lani was about to come down with the same infection. Neither of us knew if we would still be parents by morning. Midnight came. It felt as though something too strong to overcome was choking me. My heart felt like it was fighting to make each beat. God, please…I still trust you, but I am literally breaking.
I walked next door to the critical care unit. There was my baby, next to other babies that were all smaller than the palm of my hand. All of them fighting to take each breath. There we were, all together, breathing in and out and thanking God for each moment of victory. Richard and I sat there, praying for all the babies in the unit. We sobbed, shook, clenched our fists and prayed. Then I noticed something terrible. I instantly knew what it meant, but I didn't want to believe it.
The infection has entered your daughter's bloodstream. Now is when you should worry
Libby's small body was covered in more rash, but this time on her arms and legs. The nurse immediately rang for the on-call doctor. Then came the words that still ring in my ears to this day. The words that made me want to scream out loud and lose my voice simultaneously: "The infection has entered your daughter's bloodstream. Now is when you should worry."
Beep. Beep. Beep. Another baby's monitor was going off. I thought I saw nurses rushing over, but my vision was going blurry. I reached for Libby's small hand to squeeze it, but it was totally limp. She wouldn't look at me or respond to my touch. I leaned down and whispered in her ear: "Mama is never done fighting for you. You can do this, because God is going to work a miracle. He just has to…don't stop fighting."
Richard gently guided me back to our room, where I fought sleep until exhaustion took over. I didn't want to rest, but I took a small amount of comfort knowing I was only six steps away from the NICU. I counted them.
When the light filtered through the window the next morning, I could barely open my eyes. I felt unable to get out of bed. Then events caught up with me and I instantly clutched my phone to check for updates. No news. I still had two beautiful daughters. I felt the warmth of the sun on my face and closed my eyes again. In my heart, I knew that God was going to save both of my little miracles. I had faith and peace beyond my understanding.
It took almost losing everything to realize that nothing else matters as long as we have each other
As I write today, I am watching them both sleeping peacefully in their cribs. They are just over a year and a half old, and the most joyful little warriors you will ever meet. Life hasn't been easy since leaving the NICU, and the road ahead of us is still long. I can tell you, though, that even the most difficult days are still full of laughter. The sleepless nights, the toddler tantrums, the blown-out diapers can do nothing to shake our deeply rooted gratitude.
Once you have known great loss and pain, you can experience even greater love and joy. It took us almost losing everything to realize that nothing else matters as long as we have each other. Career status, financial standing, the approval of others – it's all meaningless. Our NICU experience has helped us cling to joy every single day. We survive entirely by faith and trust in God's plan. He turned our pain into something beautiful. He took our darkest hours and turned them into light that guides us each day.
Your story may be a painful one, a sad one, or maybe one that you don't even want to read anymore. I can't promise you tomorrow will be easier, or that you'll be any less exhausted. But I can promise this – there IS a plan that is bigger than you and me.
Also read: