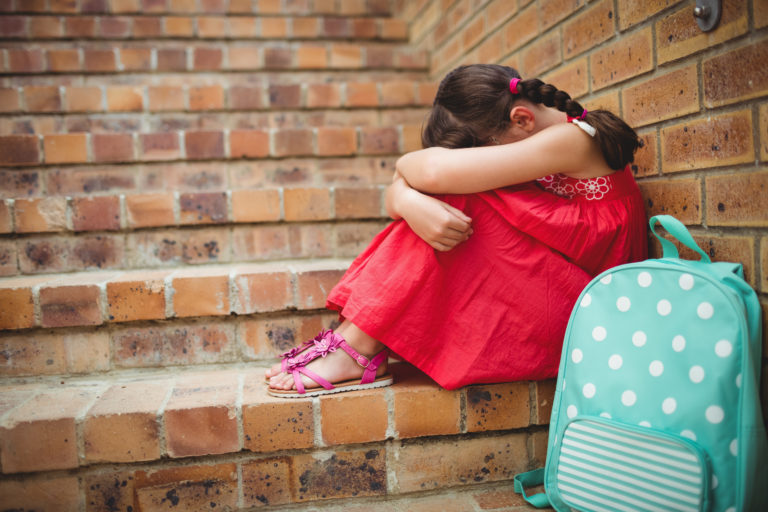 There are few of us whose kids haven't feigned illness to get a day off school when they simply didn't feel like going. We probably did it ourselves – I can remember drinking hot water to give myself a temperature on several occasions so I'd get to stay home.
Annoying and inconvenient though that might be, it's relatively harmless and something of a rite of passage. School refusal, however, is a far more serious issue and recognised by psychologists as genuine disorder.
What is school refusal?
School refusal is a child-motivated refusal to either attend or remain in school for the full day. It's characterised by emotional distress when they have to go to school; the child feels the stress and anxiety caused by being there are unbearable. The child will do anything to avoid being at school; it's not that they don't want to or because they are struggling in class – they simply can't cope with it. It's almost a phobia.
One mum, Emma O'Connor from Edinburgh, told BBC Scotland's The Nine programme how she struggled to get her son to go to school once he was in Year 5 of his primary education. He would make constant excuses or feign illness to avoid going. He couldn't explain to his mum what was wrong and, she says, instead of looking for solutions or offering support, the school instead decided to punish his non-attendance.
After battling for months without success, she eventually decided to take him out of school and unofficially educate him at home.
Lack of understanding
"I think they just didn't know what to do, which a shame because they should have," says Emma. "I was a bit shocked and reeling from it all. Eventually we decided not to force him to go anymore and gave him a bit of time off. In the end we were unofficially home-educating without any preparation or knowing what we were doing."
It was only once she contacted the authorities that the education welfare service got involved. Some months later, a new school was found – with a deputy headteacher who worked with Emma on strategies for dealing with her son's anxiety issues. Now, she says, her son is a normal 13-year-old with the same healthy disdain for school as the rest of his peers.
On further investigation, Emma found that school refusal was a more widespread issue than she had realised and is something of a hidden problem in the UK.
A widespread problem
Dr Fiona Wilson, a clinical psychologist at private mental health clinic, The Edinburgh Practice, says: "The majority of school refusing children actually like school. They are bright and intelligent. We as mental health professionals know it's a big issue but I don't think out there in public it's really spoken about.
"A lot of parents feel quite isolated. They think they're the only family going through this. The reality is that, at their child's school, there are probably a number of families experiencing it."
Dr Wilson says that recording the rates and instances of school refusal would help tackle the problem as the figures would highlight the extent of the issue nationally.
The Nine asked all 32 of Scotland's local authorities how many instances of school refusal had been recorded over the past four years. The majority said it was not a recognised term, and just two – Midlothian and Inverclyde – were able to provide figures. The former said it was currently analysing its data to understand why there was an increase in school refusal, while Inverclyde Council said it wasn't a significant issue.
Also read: